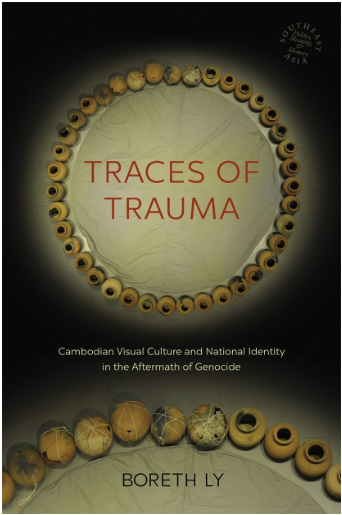 ...[Amy Lee Sanford's]
approach to creating art
that embodies trauma,
coupled with the
intersection between her
personal experience and the
history of Cambodia, makes
this installation and
performance one of the
most culturally sensitive
artistic embodiments of
trauma in contemporary
Cambodian art.
---
---
Published in November 2019, a new book titled Traces of Trauma examines the aftermath of the Khmer Rouge through the artwork of survivors and those killed by the genocidal regime. This book by Boreth Ly, Associate Professor of Art History and Visual Culture at the University of California at Santa Cruz, has been called "a seminal work in the fields of Southeast Asian studies, Asian American studies, and trauma studies." Professor Ly did a wonderful job of insightfully contextualizing my work and closed the section with, "It is this intersection between herself and the collective history, trauma, and memory of Cambodia that makes Sanford's work so poignant and powerful." If you're familiar with my durational performance and installation Full Circle, you'll recognize my artwork was used for the cover design.
---
New Work